Grumman F-8 Bearcat
Each summer, dozens of warbirds and vintage aircraft descend upon Olympia WA as the Olympic Flight Museum plays host to the yearly "Gathering of Warbirds" fly-in. During this weekend event, the skies are filled with fabric and aluminum planes alike and roar of the mighty engines can be heard echoing like voices from the past.

Aerial demonstrations and fly-bys of the Museum's own collection of aircraft, coupled with the strong presence of the Cascade Warbird Squadron and a substantial turnout of visiting aircraft, makes this a truly wonderful event. Warbird rides were also available with Bud Granley at the helm of the Museum's stunning P-51D "American Beauty".

And although the event grows significantly each year, it still hasn't lost the aire of the small-town fly-in. So if you find yourself standing at the ropes of the flight line while the F4U coughs, belches and finally awakens with a mighty roar and puff of smoke, you're almost guaranteed to lose your hat from the prop wash...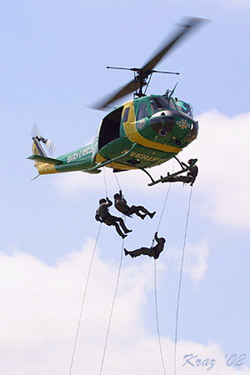 F-2 Wildcat & P-51D