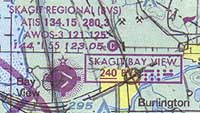 Located about an hour north of Seattle, and nestled between the foothills of the Cascades and Puget Sound, the Skagit valley is known primarily for its acres upon acres of tulips. As part of the annual Tulip Festival, the Skagit Regional Airport plays host to The Skagit Tulip Festival Fly-in, which is also essentially the first of local fly-in of the year and marks the beginning of flying season here in the northwest.

However, as with all outdoor activities in the northwest, the weather is often a factor—and this year, winter demonstrated its stubbornness to relinquish its hold. While the 38 knot gusts, rain showers and marginal VFR conditions were enough to persuade most people to leave their airplanes tucked away in their cozy hangers, several aircraft did venture out and were on hand to enjoy during the occasional afternoon sun break.

To those who challenged the elements to offer a brief reprieve to those of us suffering aero-withdraws from the dreary winter: Thanks! Also, special thanks to Corporate Air Center and all the volunteers whose effort went into organizing and hosting the event.